Apple recently announced a new Apple Watch Pride Edition Sport Band and it's absolutely stunning. The problem is the fact that it costs a small fortune at $49.
That's certainly not cheap by any stretch of the imagination, especially when there's a possibility of picking one up for about half that.
The Apple Pride bands look great but if you don't want to spend quite so much why not check out this alternative here! You can even choose between different models going all the way back to the models Apple introduced in 2018 and 2019.
Made from high-quality materials, these bands are extremely comfortable to wear and waterproof. Whether you're out working or taking a dip in the pool, these bands will retain their color and shape for a long time.
It is being offered in versions suitable for all Apple Watches ranging from the older 38mm option all the way to the larger 44mm that the Apple Watch Series 4 and Apple Watch Series 5 offer. Make sure to select the correct model and size when placing your order, too.
The Pride watch bands not only raise awareness for a great cause but they look gorgeous as well. After all, nobody wants to wear a watch band that doesn't look great, do they?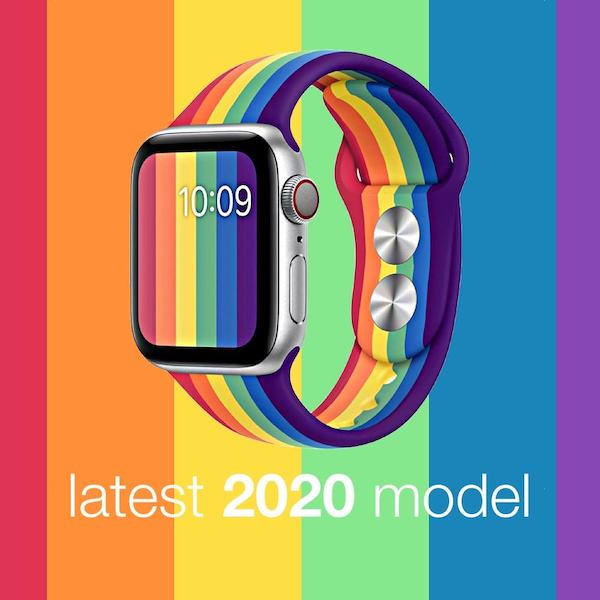 As part of Memorial Day 2020 weekend in the US, you can get these for additional discount using special code MEMDPRD5 at check out. You'll want to get your orders in soon to make sure you get this deal. And your new band, too!
Buy: Pride 2020 Like Apple Watch Band: $24.95 with code MEMDPRD5 at check out | Original price: $49.95
Buy: Pride 2018/2019 Like Apple Watch Band: $19.95 with code MEMDPRD5 at check out | Original price: $49.95
You may also like to check out:
You can follow us on Twitter, or Instagram, and even like our Facebook page to keep yourself updated on all the latest from Microsoft, Google, Apple, and the Web.